This user-submitted request is usually packed with calories. Chef Josh makes a few changes to put jalapeño poppers back on the menu.
Recipe by Joshua George, RD, Bariatric Dietitian with the Bariatric and Metabolic Surgery Center of Cooper University Health Care.
Makes about 40 jalapeño poppers.
Ingredients:
20 jalapeño peppers, sliced in half long ways and deseeded
8 ounces fat-free cream cheese
1 ½ cups shredded reduced fat cheddar cheese
1 ½ cups shredded chicken
½ cup turkey bacon, cooked, chopped fine
2 plum tomatoes, diced small
¼ cup red onion, minced
1 clove garlic, minced
½ cup roasted red pepper, diced
¼ cup Sweet Baby Ray's BBQ sauce
Pinch salt and pepper
Directions:
Place the jalapeño halves inside facing up to be filled and preheat the oven to 400 degrees.
In a mixing bowl place remaining ingredients, reserving ½ cup cheddar cheese to sprinkle atop of the jalapeños after being filled.
Using paddle attachment mix all ingredients together until well combined. Scoop about 1-2 tablespoons of mixture atop of each jalapeño.
Sprinkle with cheese and bake in the oven for 20-30 minutes, until golden brown.
Nutrition Facts: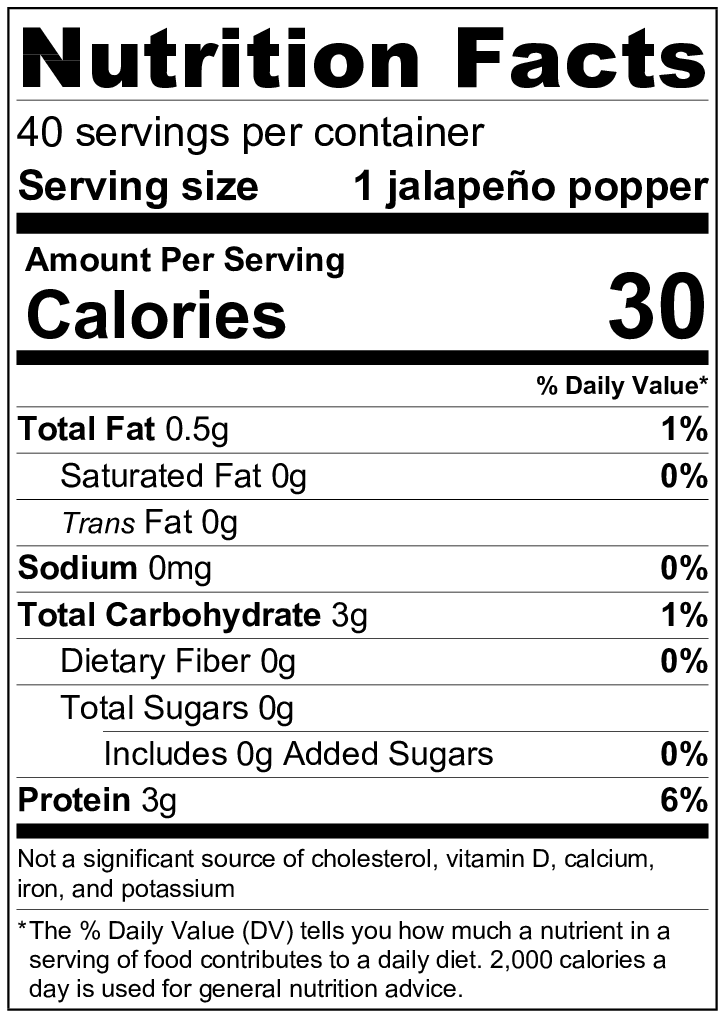 Compare to original recipe: